WORKSHOP
Career counselling session by Ms Taruna Gautam (Vice Chancellor IILM University Greater Noida)
CBSE workshop on Basics of Financial and Retirement planning by Dr. Stuti P. Nijhawan (An expert in Finance, Accounts and Law)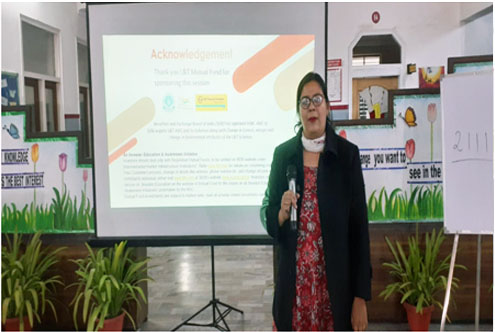 Workshop On Clinical Psychology Conducted at MPS, Main Wing
On Friday 25 January'19 an enthralling Workshop on Clinical Psychology was conducted for students of Class XI in MPS (Main Wing) in collaboration with Dainik Jagran and MSM (Master's School of Management). An aptitude test was carried out for all the students. Thereafter, the resource person, Dr. Seema Sharma, clinical psychologist, orchestrated the seminar. She inspired the students to maximize their brain capacity, assimilate thoughts and fight back. She also requested the teachers to create a healthy learning environment, support effective individualised instruction and motivate all students to engage in learning to make the students feel comfortable. The seminar was concluded with a questionnaire session where the resource personnel addressed the social, emotional and behavioral problems of the students.
Career Yatra- Map Your Dream Career
An informative and enriching Career Counseling Session was conducted by Vidya Mandir Classes on 27 December'18 for Classes IX and XI-Science in the School Campus. The School Principal, Mr. Sanjeev Aggarwal presented a sapling to the Academic Head, Mr. Sanjeev Jha as a token of appreciation. Mr. Jha apprised the students about different career options available after Class XII and motivated them on the optimum utilization of their valuable time. Ms. Swati, H.O.D. Chemistry, of the Institute goaded the students to study consistently and have an in-depth understanding of their concepts. She also laid stress on the key components of their classes and learning through discussion.
The Counseling Session concluded with a questionnaire round, where the students asked various questions from the spokesperson and all their doubts were successfully cleared by him.
Capacity Building Programme Conducted By CBSE, at MPS (Main Wing)
Meerut Public School had the privilege to host a two day Capacity Building Programme on Social Science, on behalf of CBSEon 16th and 17th November. The workshop was conducted by renowned academicians and seasoned speakers -Mrs. Anita Raturi, Principal, Foothills Academy, Rishikesh and Mr. Dhiraj Singh, PGT Political Science, Pragyan Public School, Gautam Budh Nagar. About 55 teachers from prominent schools in the vicinity of the city enthusiastically attended the workshop. Our distinguished guests were honoured with beautifully decorated saplings, as a token of love, respect and appreciation.
The participants underwent hands-on training to widen the horizon of their perspective. The resource persons elucidated the importance of honing the abilities, attitudes and aptitudes of the students which in-turn would ascertain lifelong learning. Thesecond day of the workshop was all the more stimulating as different activities and group discussions conjointly opened new doors of learning for the teachers. They were taught different methods and strategies of teaching Social Science and preparation of Lesson Plans. The teachers found working in teams with unfamiliar faces, quite exciting and refreshing – almost like becoming students once again. The resource personnels acted as a guiding force to the teachers who affirmed to spread their knowledge and assured to ignite and channelize the hidden potential in the youth of the country.
Career Counseling Session 2018
American author Napoleon Hill has wisely remarked, "No man can succeed in a line of endeavour which he does not like" and it's very true, indeed. One needs to be on the right career track coupled with an appropriate set of skills to flourish outright. With this objective in mind, an enriching and enlightening Career Counseling Session was organized at Meerut Public School, Main Wing for students of Classes X and XII. The session commenced with the School Principal, Mr. Sanjeev Aggarwal reiterating the importance of knowing one's potential and subject of interest before choosing a profession. The resource person Mr. Ranjan Arora, an eminent trainer, counselor and mentor, advocated this quite emphatically. Mr. Arora is a prolific educator associated with Oxford University Press, possessing a multi-faceted experience of over 23 years and has conducted more than 300 workshops for students across India. He briefed the students about various leading universities, business schools and professional colleges and the need for a preparatory programme for each student seeking admission in the same. He impelled students to aim high and pursue their dreams without inhibitions. Altogether, it got a prodigious response from the students who found the session very edifying.
Workshop on Classroom Management
A fruitful and interactive workshop on "Multiple Intelligence, Motivation and Handling Behavioural Issues in Children" was organized for staff members of Meerut Public School, Main Wing in association with Oxford University Press on 26 May 2018. Dr. Madhu Sharma, a freelance Management Consultant overwhelmed the teachers by enlightening them about various teaching methods. The key points of the workshop were to strengthen the teachers in planning and visualizing lessons, designing worksheets and identifying learning gaps. She stressed on inculcating Positive Attitude and the importance of being physically fit and eating healthy. The Principal Mr. Sanjeev Aggarwal in his address thanked the resource person for her valuable guidance and conducting such an interactive and resourceful session for the teachers. The venerable Managing Director Mr. Vikramjeet Singh Shastri assured the staff members that such kind of educational workshops will be coordinated in future as well.
Career Counseling Session Held At Meerut Public School, Main Wing
Meerut Public School has been, over the years, concerned regarding imparting need based, education to all its students, since it is the foremost demand of the present day professionalism. In their endeavour to provide Holistic Education to the students, the School Management added another feather to its cap by organizing an enriching and informative Career Counseling Session for students of Class XII on 7 May 2018. The session commenced with the revered Principal, Mr. Sanjeev Aggarwal reiterating the importance of knowing one's potential and pursuing their dreams. The resource person for the session was Mr. Nishant Jaiswal, an eminent career counselor from Delhi. He engaged the audience in a conversation while introducing them to umpteen number of career opportunities before them and their scope apart from Engineering and Medicine like Architecture, Merchant Navy, Micro-Biology, Forensic Science, Statistics, NDA, Law, Civil Aviation, etc.
Mr. Jaiswal urged the students not to make decisions based on family expectations and peer pressure. He guided the students to identify their interests and goals and not to blindly join the rat race. The seminar culminated with an interactive session of the students with Mr. Jaiswal, who addressed their queries patiently. Altogether, it received an overwhelming response from the students, who are at the crossroads of choosing a career after their schooling.
Career Counseling Session Organized at MPS Main Wing
An informative and entertaining career counseling session was organized for the students of Class XI & XII on 20 Dec 2017 at Meerut Public School Main Wing. The session was not only successful at clarifying the doubts related to their career choices but also gave them a clear vision about their future prospects.
The resource person Dr. Vikrant Jawla from Career Launcher, in this session, enlightened the students about various conventional and non- conventional career options to choose after Class XII. He stressed upon having clarity of vision and need of meticulous planning to achieve their goals. A child can only be self driven if he has some goal to achieve. Various career options in Engineering, Medical, Commerce and Humanities were discussed during the session. The Principal Mr. Sanjeev Aggarwal in his address thanked the resource person for his valuable guidance and encouraged the students to believe in themselves and make right choices depending on their aptitude. It was the visionary approach of the Managing Director of Meerut Public School Group, Mr. Vikramjeet Singh Shastri to organize such an interactive and resourceful session for the students.
Career Counseling Session
A Career Counseling Session for students of Class XI & XII was organized at Meerut Public School, Main Wing in the school premises on 3rd November '17. The Chief Guest for the day was Wing Commander Sangeeta Kathait, Joint Director, Publicity Cell, Indian Air Force.
The Chief Guest counseled the students on the various fields available for entry in Indian Air Force. She also informed them about the eligibility criteria and minimum qualifications required to enter the Air Force. She also asked various questions regarding Indian Air Force from the students and distributed small gifts like T-shirts, caps, bags, etc. of the Indian Air Force to the students to motivate them. The Counseling Session was followed by a question answer session where the students clarified their doubts from the esteemed guest.
The School Principal, Mr. Sanjeev Aggarwal thanked Wing Commander Sangeeta Kathait for sparing her valuable time and enlightening the students. He also motivated the students to work hard and choose a right career path as per their aptitude.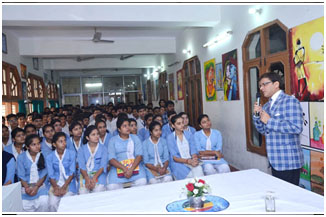 Career Counselling
A Career Counselling session was held in Meerut Public School, West End Road, Meerut Cantt for students of class X on 16th Feb 2016. The resource person was Mr Vikrant Jawla, a renowned counsellor, better known as "Apti Guru".
The session was held to equip the students with information about the various career options open to them and to enable them to opt for the correct subjects in class XI to join their dream career. The programme included talks on various careers like armed service, Commerce related careers and career in Science.
It was an enlightening session and the students took keen interest. The parents were also invited to attend the session so that they would be able to guide their wards.
Jagran Youth Connect
The Danik Jagran Group conducted an event 'Jagran Youth Connect' which was hosted by Meerut Public School. Mr. Pankaj Yadav D.M Meerut was the Chief Guest, who apprised the students about their future career prospects. An interactive session with the DM and students was very impressive. The students queries were answered very patiently by Mr. Pankaj Yadav D.M Meerut. It was a successful event.
Career Counselling Workshop
A Career Counseling workshop was conduct by CL Educate Ltd. for classes XI and XII Commerce Section of Meerut Public School (Main Wing) Meerut on 4th Nov 2015, to make the students aware of the opportunities that await them in various fields. The resource person Ms. Suhasini apprised the students of the options available to them after class XII. The workshop was very informative. The Principal Mr. Sanjeev Aggarwal thanked the resource person and told the students that he was sure the information imparted would be very handy to them