Exemplary Performance in JEE Mains
A Rendezvous with the President of India
India's Top Girls Day School Award
Basketball Winner Chavi Tomar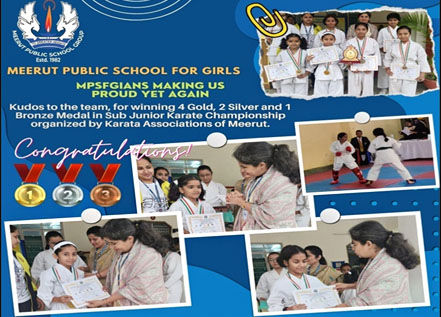 Karate Champions
UGC-NEET
Winners of the Rolling Trophy
Roller Games Achievers!
Bhagwad Gita Winner
NCC Gold Medallist
Laudable Performance by MPSFG. The Adhyyan Team organised TALENT HUNT 3, 2020. Vranda Gupta of Meerut Public School for Girls won accolades in English Speaking Competition securing l position.
STEM Quarantine Learning Contest. 25th June 2020. STEM (Science Technology Engineering Mathematics) orgainsed a quarantine learning contest, task III. Aditi Singh of Class IX, of Meerut Public School For Girls bagged the third position in online stem quarantine learning program.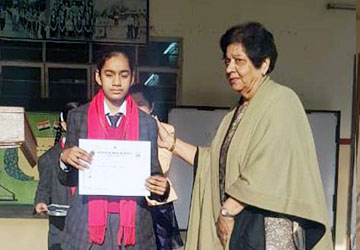 Inter School Karate Championship 2020 was held on 9th Feb 2020. Anshika Tomar of Meerut Public School for Girls secured first position in Kumite Event for girls -13.0 year/wight +45 Kg category. She was awarded a gold medal and a certificate.
Sadyam Aftab, a bright student and a gifted painter of V-D of the Primary Section of MPSFG won the Ist prize at a Drawing Competition organized by R.K. Enterprises, Kailash Puri on 26 January 2020. She also bagged the 2nd prize in the Drawing Competition organized at Wheeler's Club on 02 February 2020. She got certificates, a medal and a trophy.
A Cooking competition titled 'Vidya Global Junior Master Chef' was organised at Vidya Global School Anshika Singh of Class XII-I came out with flying colors, bagging the third position. She was awarded with a sash and a trophy.
Once again the Girls of our school added a feather to the cap of the Institution. Isha Ansari a student of Class XI secured IInd position in creative Painting Category in the Kala Utsav competition organised at Vidya Institute of Fashion Techonolgy, VidhyaKnowledge Park.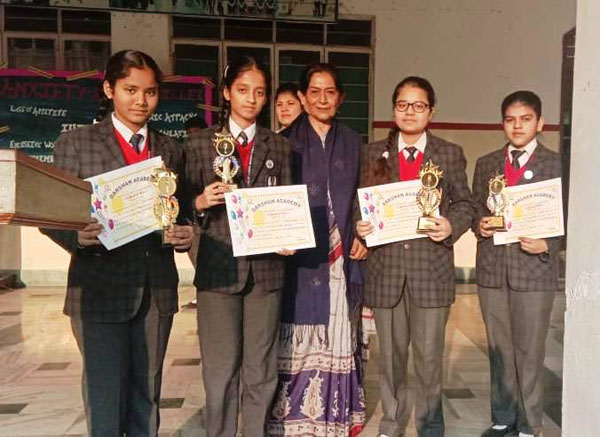 An Inter-School Painting Competition was held in Darshan Academy on 18-11-2019. Our Primary Section students outshined and brought laurels by winning trophies.
XIIth Annual Inter School Debate Competition was orgainsed by Rotary Club, Saket Meerut on 14 October 2019 at Sophia Girls School. 15 Renowned schools of Meerut participated. Nandini Tyagi of Class XII was adjudged as'The Best Speaker' and'Winner' . She was awarded with the 'Best Speaker' Trophy with a cash prize of Rs. 2100/- and Rs. 2100/- cash prize for being a winner.
Amanya Sharma of Class – XI was honoured with a 'Winner'Certificate and a cash prize of Rs. 2100/- and also a Trophy for being the Third Best Speaker with a cash prize of Rs. 1100/- The Rotary club rolling trophy and 'Best Speaker' trophy was awarded to the school.
S to S Square hosted a Painting competition on 18 August 2019,Ibtada Ansari of Class XII, secured the third position. She was awarded with prize money of eleven hundred, a trophy and a certificate to boost her morale further.
An Inter-Wing Scrabble Competition for Class VIII was organized in our school premises on 2 November 2019. All 66 participants performed exceptionally well.
The First and the Second Prizes were bagged by 'Parina Pal' and Mehak Jain' of our school respectively. The Third Prize was secured by Nandini Saini from MPGS, Shastri Nagar.
The consolation prizes were awarded to Priyanshi Chaudhary and Agrima Mishrafrom our school andEeshaGoel from MPGS, Shastri Nagar.
XIII Chaudhary Narendra Singh Memorial Inter School Debate Competition was organised in Guru TeghBahadur Public School on 21 January 2020. The topic was 'Internet Censorship has become a necessity in today's world'. Suhani Jain of Class VIII D was awarded the second prize for speaking in favour of the topic and Tanvi Bhatia of Class VIII C was given a certificate for sharing her views against the motion.
Sanskar Bharti Meerut hosted NatrajPoojan and SamrikaVimochan on 19 August 2019. Kashish Chawla of Class X, secured II position in Bharatanatyam style. She was adjudged with a memento, a trophy and a certificate each.
Anshika Singh of Class XII made the school proud securing 2nd place in the cooking competition organised by Tits and Bits association. The theme being 'Indo Chinese Cuisine' the food was to be cooked in a time period of two and a half hours.
Lions Club Meerut Mahaan organised a Debate Competition on the occasion of Teachers Day. 25 schools participated in it .Khushi Gupta of our school brought laurels by winning the First Prize. BhumiKaushal also won the consolation prize. Both were awarded with a trophy and a certificate each.
Pubali Chaudhary, a talented dancer showcased her talent at the International Indian Classical Dance and Music Festival, securing First position. She gave an excelled performance in Folk Dust.
M.L. films orgainseda talent hunt on the 14th August 2019 by the name of Hapur Got Talent – 6. Pari Jain of class VI- A participated in the show under the age group of 7 to 11 years where she won the first prize in both solo dance performance and modelling. She was awarded with two trophies and 2 certificates.
25 Brother City Rich Inter-School Debate Competition was organized in St. Mary's Academy on 13-July-2019. Nandini Tyagi and Amanya Sharma represented the school and brought laurels to the school by winning "Runner Up Trophy".
Avanti Foundation organised a talent search examination. VaniPunia of Class IX, secured II rank in the district and was awarded a cash prize of Rs. 2100, a trophy and a certificate. Diya Vats, Rushna Khan of Class IX stood XII in the district. Anshika Sharma, SanyaSaif of Class IX stood XIV in the district, they were awarded a trophy and a certificate each.
Areena of Class VIII secured III position and was awarded a cheque of Rs. 1100, a trophy and a certificate. While Zoha, Nugra, Yana, Dilsheen, Isha, Ritika and Tanishq were awarded a trophy and a certificate each.
04 October 2019. CBSE organised 19th Inter sports and Games Championship 2019 from 30 September 2019 to 02 Ocotber 2019 at Ryan International School, Greater Noida. Hargun Saini of Class XI – D under 19 category bagged the first position in 500 mtrs race and the second place in 300 mtrs race.
Kashish of IX-I, under 16 category secured first position in 1000 mtrs race and second position in 500 mtrs race.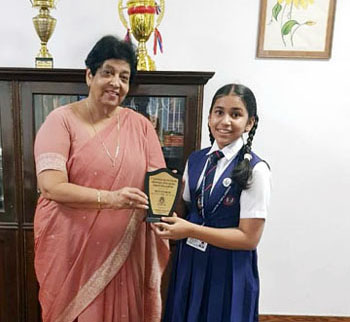 5th patrician Inter School Debate 2018 as organised by St. Mary's Academy on 25 August 2018.Samaira Jain of VIII-G was awarded with the best speaker trophy along with a certificate.
A Chess Tournament 'Kridha Bharti' was organised in Meerut. Manu Sirohisecured the second position in under 14 category.She was awarded with a Trophy and a certificate.
A cooking competition was organised by the Food Committee and Bake me Bakery.Anshika Singh of Class XI I secured second position by making 25 desserts in 4 hours and awarded with a trophy.
Second Open Regional Boys & Girls Wushu Championship 2018 was organised by Saharanpur Wushu Association. Mahi Rana of Class XII bagged the First prize in junior 60kg category.
The Malhar Competition was organised by Gargi Girls School on 31 July 2018 Hargun Saini of Class X got the fourth position in Solo Classical Dance Category. She received a medal for the same
The Third Basketball B League District Level Championship - MPSFG Emerge Winners
Riya Baliyan was selected in India Basket Ball Team (Under 16).
Aditi Gehra bagged a bronze medal in 30-35 weight group in the UP State Inter School Taekwondo Championship 2017
Manu Sirohi of Class VII left everybody spell bound in Under 14 Chess Tournament who secured first position at Khel Chetna Mela organised by Krideha Bharti, Meerut from 24 A
Yashasvi Chaudhary of Class IX made the school proud by securing second position in Karate (Under category 12 Years) in the 4th U.P. games 2017 which were organised from 12 October 2017 – 16 October 2017.
Khusboo Chaudhary won a gold medal & a certificate (National Level Inter Districts Championship of Kabaddi-2017)
Mallika Rawat, the first prize winner at Creative Painting Competition, with the Principal Ma'am
The proud winners of KHO-KHO Competition with the Principal Ma'am
The proud winners of KHO-KHO Competition with the Principal Ma'am