5th patrician Inter School Debate 2018as organised by St. Mary's Academy on 25 August 2018.Samaira Jain of VIII-G was awarded with the best speaker trophy along with a certificate.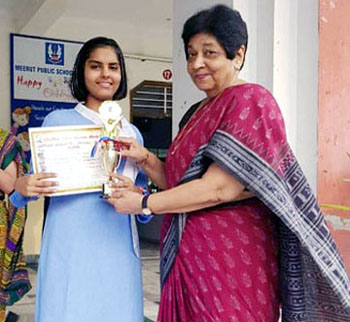 A Chess Tournament 'Kridha Bharti' was organised in Meerut. Manu Sirohisecured the second position in under 14 category.She was awarded with a Trophy and a certificate.
A cooking competition was organised by the Food Committee and Bake me Bakery.Anshika Singh of Class XI I secured second position by making 25 desserts in 4 hours and awarded with a trophy.
Second Open Regional Boys & Girls Wushu Championship 2018 was organised by Saharanpur Wushu Association. Mahi Rana of Class XII bagged the First prize in junior 60kg category.
The Malhar Competition was organised by Gargi Girls School on 31 July 2018 Hargun Saini of Class X got the fourth position in Solo Classical Dance Category. She received a medal for the same
The Third Basketball B League District Level Championship - MPSFG Emerge Winners
Riya Baliyan was selected in India Basket Ball Team (Under 16).
Aditi Gehra bagged a bronze medal in 30-35 weight group in the UP State Inter School Taekwondo Championship 2017
Manu Sirohi of Class VII left everybody spell bound in Under 14 Chess Tournament who secured first position at Khel Chetna Mela organised by Krideha Bharti, Meerut from 24 A
Yashasvi Chaudhary of Class IX made the school proud by securing second position in Karate (Under category 12 Years) in the 4th U.P. games 2017 which were organised from 12 October 2017 – 16 October 2017.
Khusboo Chaudhary won a gold medal & a certificate (National Level Inter Districts Championship of Kabaddi-2017)
Mallika Rawat, the first prize winner at Creative Painting Competition, with the Principal Ma'am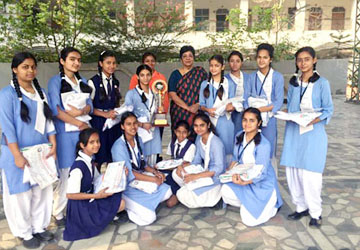 The proud winners of KHO-KHO Competition with the Principal Ma'am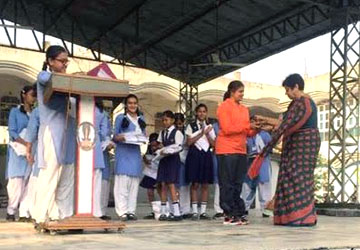 The proud winners of KHO-KHO Competition with the Principal Ma'am