DIRECTOR'S MESSAGE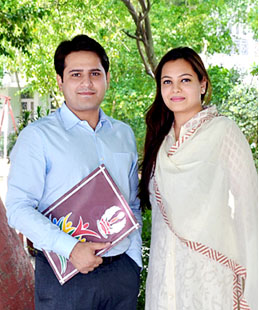 Several years back, we resolved to set up a school, a school with a difference, a school far out of the common run, in our beloved city of Meerut and it fills my heart with joy and pride to express that a precious sapling, MPS Group of Schools is maturing swiftly into a gigantic fruit-laden tree of knowledge and perspicacity. It is an Institution solely and virtually dedicated to repay the obligation of humanity by serving the society through the noblest stream, EDUCATION. Every child is like a seed which has the potential to grow, if it is nourished with love and care under the right guidance. We trust in tapping and unleashing the infinite capabilities of our young generation. In today's world, where the society is increasingly divided into smaller segments, MPS Group of Schools remains as a community rich in its integrity where honesty and hard work form the basis of an educational process resulting in learning for a life time. All the branches always strive to diversify and reshape the path of education according to our ever changing world. Our commitment to education today recognizes the necessity for thinking and acting from insular to universal. As the school believes that children are not things to be moulded but are individuals to be unfolded. In this regard the school confers them the precise atmosphere, also an enriching and invigorating environment with umpteen opportunities to think and work creatively, compassionately, to develop confident, smart and conscientious individuals with high norms and ethics so that they are competent with valor and fervor to stand for what is correct, adopting to diverse circumstances in any part of universal village.
Although the world has been scarred by greed and selfishness but at MPS, we are seeking out a forgotten age of innocence because we deal with young minds. We are filled with hope, that the coming years bring about a change in attitude and we will fulfill our responsibility of carrying into each home the message of cheer and culture, of freedom and prosperity, of life and light. With a clear vision and steady steps we shall march forward. It is our aim to provide a fine balance of tradition and to ensure that we are at the forefront of educational practices. The school maintains to keep its core value to inculcate and preserve Indian Culture, and promises to excel in all round education of world recognition. The fabric of our value is woven to link academics, sports and services and guide the daily actions and behaviour of the MPS family and to imbibe in each child the curiosity to learn, the self-confidence to tead and the compassion to serve.
"Quality is never an accident. It is always the result of high intention, sincere efforts, intelligent direction and skillful execution. It represents the wise choice of many alternatives." Year by year, the efforts of all our staff and students have taken the school forward in terms of excellence. The school has progressed in leaps and bounds. Today we stand as one of the most noted educational landmarks in the heart of Meerut. Come, let us hold hands to share the joy and success in nurturing the future of this Universe so that tomorrow they stand tall with confidence to be seen and heard, and be counted amongst those who can confidently state, "Yes, I can." Jai Hind.
Vikramjeet Singh Shastri
Managing Director
Ketiki Singh Shastri
Director